Meet Jessica the jeweller
She is an Irish online retailer selling her own brand of hand-made craft goods on her website www.justjewels.ie. Jessica uses her website to sell her jewellery to happy customers all over the world. Her customers love her Celtic themed designs and business is going well.
One day Jessica noticed that something was wrong with her email package and she couldn't figure out what the glitch was. She tried to fix it herself, she Googled it, she YouTubed it, she asked friends but she just couldn't fix it herself.
Admitting defeat Jessica eventually forked over a lot of money to an IT expert to get it fixed as quickly as possible. She'd already wasted her valuable time trying to do it herself, the cost involved didn't matter, Jessica was just relieved to have her business back up and running and orders coming in.
There's always that one email you know you should pay more attention to
In fact there was a huge amount of emails to get through. Alongside the order emails and the general day-today admin issue there was an email from Jessica's internet hosting provider and website Registrar. She set it aside to deal with once she'd cleared the more urgent items on her to do list
Unfortunately that email was a final reminder from her website registrar to renew her .ie domain name. She'd seen similar mails from them a couple of times before but one came while she was at a trade show, another the day before she was appearing on TV to promote her jewellery and with one thing or another she'd missed them all.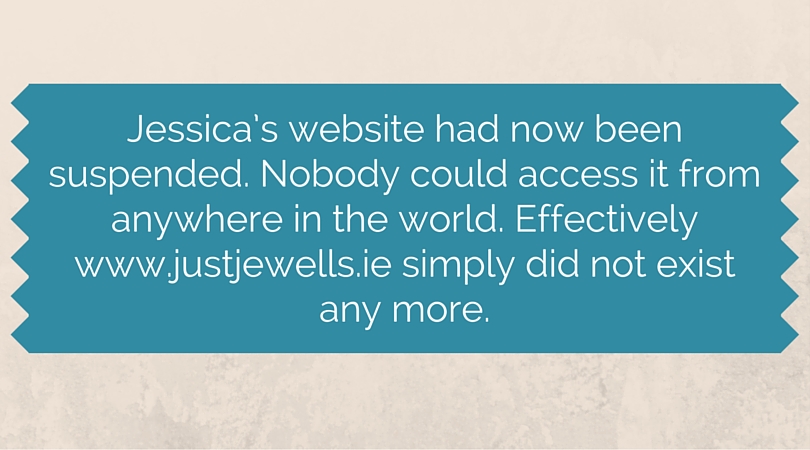 To make matters worse Jessica's email also stopped working. It was 40 days after she'd received the initial email about renewing her domain and that's when the clock started ticking for Jessica.
Jessica was a successful business woman so she now knew what she had to do. She contacted her Registrar and paid her domain renewal fee. Not wanting to be caught out like this again she actually paid for a ten-year renewal. Now her domain would automatically be renewed every year, for the next 10 years. Her to-do list just got a little bit shorter.
"I'll renew my domain name next week", what's the worst that could happen?
But what would have happened if Jessica had ignored the fact that her website and email were down and her domain name had been suspended? 30 days after they were suspended www.justjewels.ie would have become available to register by anybody with a valid reason for having it. Maybe John, a competitor selling his own brand of craft jewellery, would have registered it and started using her website name, along with her brand and the goodwill that Jessica had worked so hard to build.
John's purchase would have been completely legitimate and there would have been absolutely nothing Jessica could do about it. Jessica would have had to start again. She would have to contact every customer, find an excuse as to why she was changing her great online trading name, set up a new email address and spend time and energy doing what didn't make her money.
If you have a good domain name, make sure you keep it
The moral of this simple story is that you should always protect your .ie domain name. In the normal course of events people go out of business, merge with others, pivot the business….all good reasons to change a name. But to lose a successful trading domain name is tantamount to losing a successful trading business. It's a travesty. Don't do it.
Why not check today and see when you're due to renew? You can do this by searching for your own domain name in the search bar at the top of this page. Just scroll up, we like to make things easy for you. For the small sum involved why not update it now? It could save you time and money and prevent a business outage, downtime or even an interruption in your sales.
If you're wondering who our Registrars are then you can see a full list of them here.
*names and locations changed for anonymity.