No SME can exist without customers. Knowing who your customers are and what they want can help your business cater to their needs. When we were building the latest dot ie Digital Health Index we wanted to show a complete picture of the online behaviours and activities of both Irish businesses and consumers to help Irish SMEs. In addition to surveying 500 SMEs, we also surveyed 1,000 Irish consumers to assess what they do online and what they look for from an SME's online presence.
Irish consumers are spending large amounts of money online
Irish consumers are spending vast sums of money online. Today, Ireland's share of the European e-commerce market is worth €9 billion, and that figure is set to reach €14 billion by 2021. More than half of that, however, will be spent with retailers outside the country.* Indeed, as we discovered in our Q1 2017 Digital Health Index, only 30% of Irish SMEs with a website possess any sort of web sales ability, while 22% remain completely offline without even a basic website.
What do they expect from their local businesses?
Consumers have certain expectations of their local businesses. At the very least, they want to be able to see what they have for sale on a well-designed, intuitive and easy-to-navigate website, and most would like to be able to buy online from them. As increasing numbers of businesses in Europe and North America offer this functionality, including the option to buy online with direct-to-door delivery, Irish SMEs cannot afford to stay behind the curve, losing out on revenue and customers in the process.
The majority of consumers believe that Irish SMEs are not equipped for the digital age. While they would prefer to 'buy Irish', if they cannot find the goods they want, they will simply look to international retailers to meet their needs.
Consumers are frustrated if they can't find what they want online
Highlighting the need for an online presence, almost three-quarters (74%) of Irish consumers are frustrated when they find that a business does not have a website. Of this frustrated cohort, almost half (49%) find it 'extremely frustrating'.
Underpinning the need for websites to display up-to-date, accurate information at all times, 86% of consumers find it frustrating when a business has incorrect details on its website, while 84% are frustrated when they cannot find a business's contact details. Curiously, consumers are less frustrated when a business can't be found on social media – less than a third (31%) said this bothered them.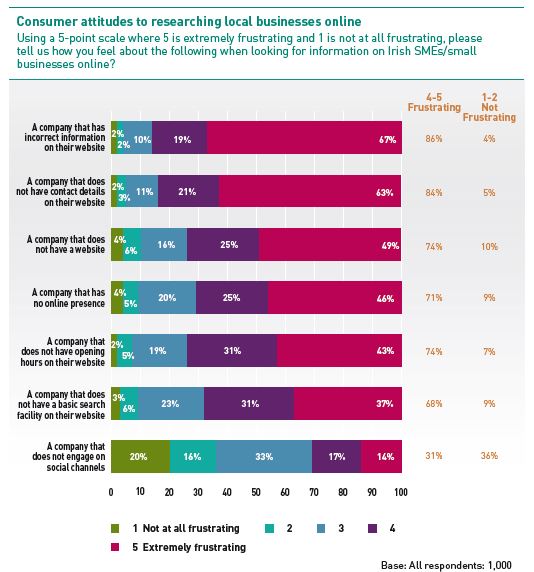 Consumer attitudes to SMEs' online presence
A significant majority (83%) of consumers believe that all SMEs should have a basic website that lists contact details and opening hours. In fact, over two-thirds (68%) believe that a business is 'outdated' if it doesn't have a website. 60% would shop with a competitor for the same product or service if they cannot find their local business online. Nearly two-thirds (65%) of consumers say that being able to make purchases online is important to them.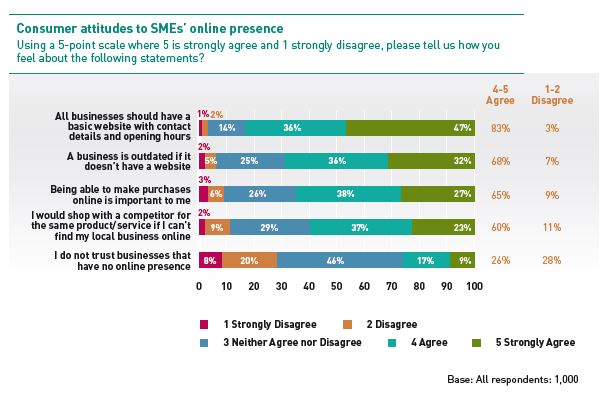 Consumer attitudes to online shopping
71% of consumers said they were 'more likely' to purchase from a business with a website, demonstrating the authenticity factor and trustworthiness an online presence adds to businesses. However, when asked if they believe their local shops and businesses are well-equipped for the digital age, consumers are almost evenly split. 51% say they do not believe their local businesses are prepared. At the very least, 65% of consumers want their local shops to offer the ability to browse and research their products and services online. Over half, 52%, want a full online shopping service, allowing them to buy the product online and have it delivered to their door.
*Source: Virgin Media Digital Insights Report 2016