.ie Domain Profile Report
The .ie Domain Profile Report examines the make-up of the .ie domain database
The .ie Domain Profile Report 2018 explores the number and type of .ie domains registered in 2018 in Ireland, the counties and countries where they were registered, as well as new information about the wider .ie domain ecosystem.
51,040 new .ie domains were registered in 2018, up 29% in 2017. The total .ie domain database recorded 262,140 active domains by the end of 2018, up 10% on the previous year.
Key facts
.ie Domain Profile Report 2018.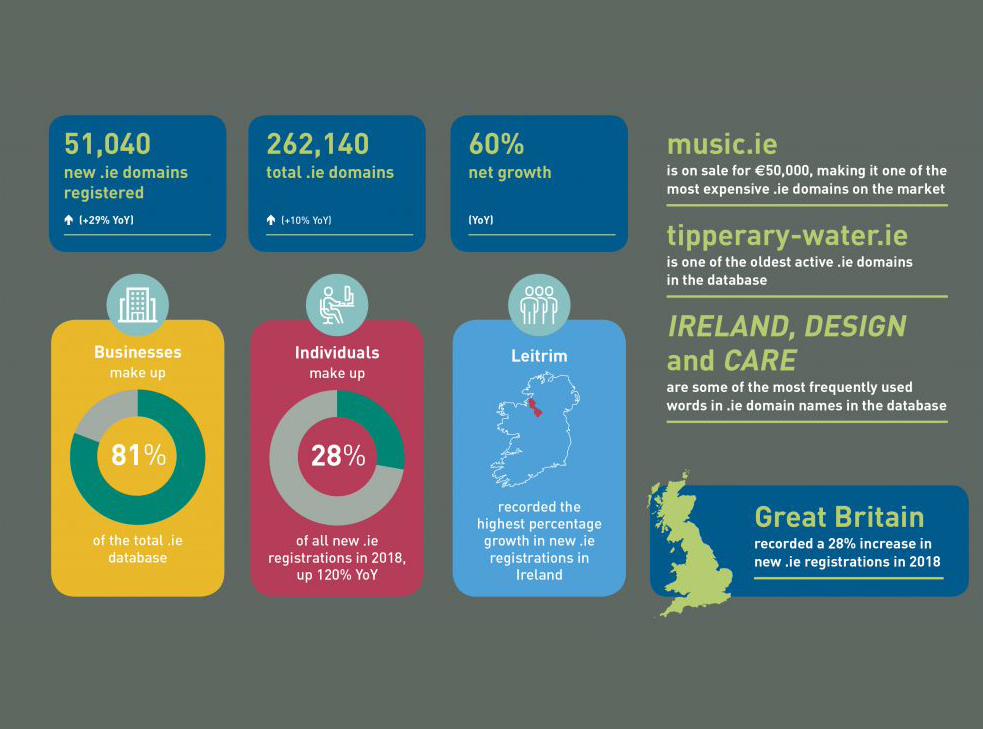 Other findings
In many Border, Midlands and West region counties, new .ie domain registration growth was higher than in Dublin.
A significant part of .ie's growth in the last six months is a result of our new 'liberalisation' policy. The policy, implemented in March 2018 after extensive consultation with industry stakeholders and the general public, makes it easier and faster to register a .ie domain. This change is timely as businesses are moving away from generic, anonymous email addresses, like eircom.net or gmail.com.
There was a 59% increase in the number of .ie domain names registered by international users.
Dublin registered the lion's share of new .ie domains registered in 2018 (43%), followed by Cork and Galway.
The number of .ie websites with SSL security certificates increased by 37.9% quarter-on-quarter (Q3 vs Q2 2018)* after Google Chrome introduced a new feature warning users about potentially unsafe sites.
Listen
Our CEO, David Curtin chatted to Vincent Wall on Newstalk Breakfast on 25 January 2019, about the significant growth in new .ie domain registrations in 2018. The numbers have demonstrated the success of the registration rule change in March 2018, which made it easier and faster to get a .ie.
Preview .ie Domain Profile Reports
More domain stats
Below are some additional statistics taken from the .ie domain database.
Number of .ie domains registered
At the end of 2018 the total number of .ie domains in the database was 262,140.
Quarterly growth of .ie domain registrations
The chart below shows the quarterly growth of .ie domain name registrations.
As outlined in the chart, registrations have been on an upwards growth trend in recent years.
Number of new .ie registrations
2018 was a record-breaking year with 51,040 .ie domains registered.
This averages to roughly 140 new .ie registrations daily in 2018 and is more than any previous year.
Total .ie domains registered at 31 December 2018 by domain holder type
When a domain is registered, we collect GDPR compliance information about the domain holder, specifically the type (e.g. corporate body, individual, sole trader etc).
The chart below represents the percentages of each domain holder type. It confirms that the business sector continues to be the largest class of domain holder type with companies at 52.9% and sole traders at 28.3%.
Total .ie domains registered at 31 December 2018 by county
The chart below analyses the .ie database on a county by county basis.
The county with the highest number of domain names registered is Dublin at 119,981. Second highest is Cork at 22,518 representing 45.77% and 8.59% respectively of total domains in the .ie database. Fermanagh has the lowest recorded number of registered domains at 157 or 0.06%. In terms of population density and the level of commercial activity, the breakdown of the market share is not surprising.
.ie Domain Statistics
273,948
.ie Domains registered
So Far
28,752
.ie Domains registered
This Year
2,308
.ie Domains registered
This Month