You can now register domains in the Irish language which include the fada character for the first time!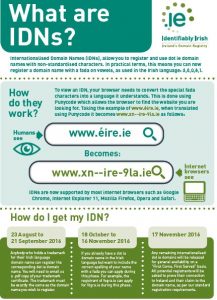 The IEDR has made a Punycode converter available to help with Unicode/Punycode conversions. This is available here.
Internationalised Domain Names will be available in three phases:
Rights holders were offered the opportunity to apply for their IDN during the Sunrise phase which opened on 23 August 2016, and ran for 30 days until 21 September 2016.
The next phase, called Landrush is designed to allow those who currently have an Irish language domain (but without the fada) to get the correct Irish version.   For example, www.failteireland.ie can purchase www.fáilteireland.ie. This phase will launch on October 18th 2016, and will run until November 16th 2016.  Read more about the Landrush Phase.
In the final phase, called General Availability, applications will be open for new registrations on a first come first served basis. Read more about General Availability.
For frequently asked questions, please see the guide available here.
To apply, please contact one of the participating accredited .ie Registrars listed below, who will help you with your application.
101 Domain                 Lexsynergy                   Hosting Ireland                Blacknight
Beecher Networks           eTailor
Landrush will launch on 18 October 2016, running for 30 days and ending on 16 November 2016.
Registration Criteria
During this phase, only applications from certain existing .ie registrants will be allowed.
This is to ensure that those who previously registered domains in the Irish language, but without the correct inclusion of the fada, can have the chance to get the corrected spelling of their domain.
For example, the registrant of fogra.ie, can apply for fógra.ie during this phase.
If you are the existing registrant of a .ie domain that is missing the fada character, please ensure you apply during this phase.
Otherwise, any remaining IDNs will be made available on first come, first served basis to anyone who meets our standard registration criteria, during the final phase of release.
The final phase of release will be general release, and this is expected to start on 17 November 2016.
Any remaining Internationalised .ie domains will be released on a "First Come First Served" basis, as per normal registration procedures within the IEDR.
All applicants must satisfy the IEDR Registration and Naming Policy.
Registrations Support
If you have any queries relating to the registrations process outlined above, please do not hesitate to contact Sarah in the Registrations Department, who will be happy to help. Email: idn@iedr.ie  Telephone: 01-2365400.
Set of allowed IDN characters
Letter
Decimal Position in Unicode V5.2
Hexadecimal Position
in Unicode V5.2
Notation English
á
225
0
Latin small letter a with acute
é
233
0
Latin small letter e with acute
í
237
00ED
Latin small letter i with acute
ó
243
00F3
Latin small letter o with acute
ú
250
00FA
Latin small letter u with acute