Is your website good at selling online?
Everyone knows that consumers are increasingly moving to purchasing online and the main reasons are convenience, pricing and product availability. Irish SMEs are embracing online in ever increasing numbers.  If you're an SME, you want to know what the key trends in Ireland are.
We run a programme called OPTIMISE which is designed to help small and micro businesses improve their digital presence. In 2018, we helped 40 companies from the design, hardware and retail sectors.
OPTIMISE measures each company's digital presence under 10 separate headings. This includes the full range of factors from design and branding, to content and email marketing, and technical aspects such as search engine optimisation (SEO), coding and mobile.
Below is an example of the summary report we create for each company and this is accompanied by a detailed step-by-step guide on what to fix and how to do it.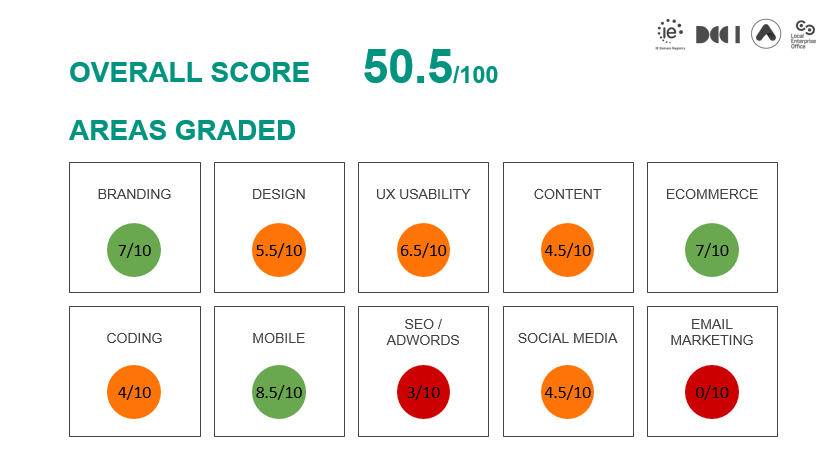 What are Irish SMEs doing well and where do they need to improve?
The Good
– Businesses know the importance of mobile and e-commerce and tend to score well in these areas.
– Websites are being built on well recognised platforms like WordPress and Shopify.
– Branding and design score well, showing that business owners know that visual impact is very important in both online and offline shopping.
– Business owners increasingly appreciate the value of good user experience (UX).
Areas for improvement
– There is surprisingly low usage of email marketing which is a missed opportunity, because the easiest people to sell to are existing customers. Many email marketing systems are very easy to use and it is simple and quick to gather customer details.
– Poor SEO means companies lose out in Google search. SEO is not an instant solution – companies need to chip away at it over several months. Here is a useful checklist of actions.
– Some technical aspects such as website speed and quality of code can cause delays which impatient online consumers won't hang around for. These can easily be fixed by a web developer.
– Many websites don't have enough content and it is not updated often enough. Customers want up to date content and Google search will reward websites with fresh content.
– Maybe it's Irish modesty, but many businesses don't tell the story of their business as well as they should. Customers are genuinely interested in the people behind a business, not just their product or service. The story can be told in text or video format.
Get in touch
If you are a sectoral organisation or a representative body, please get in touch to see how our OPTIMISE Programme can help your members get online.  We do not charge for this programme. Email us at marketing@iedr.ie