New .ie registrations in Ireland surged 56% in Q2 as businesses move online in response to Covid-19
The .ie Domain Profile Report, examines the makeup of the .ie database, including the counties and countries where .ie domains are registered and additional information about the wider .ie ecosystem.
In this edition we assess the impact of the Covid-19 pandemic and analyse the numbers and types of .ie domains registered in the first six months of 2020 (H1: January – June).  It is clear Covid-19 has had a noticeable effect on new .ie registrations in the first six months of 2020, which are up 26% year-on-year.
At the end of June 2020, there was a total of 295,794 .ie domains in the .ie database, an increase of more than 8% on H1 2019.
The impact of Covid-19
Over 40% of new registrations on the island of Ireland in the first six months of 2020 occurred in May and June, as businesses responded with online services, following the Government's 'work from home' order which closed most of the country's business premises.
Overall new registrations in Ireland during Q2 2020 increased 56% YoY.

The increase suggests that with main streets temporarily shut down, more businesses and independent professionals have gone online since the lockdown to maintain their revenue streams, stay in contact with customers, and expand into new markets. Indeed, thirty-one of the island's thirty-two counties recorded an increase up to the end of June 2020
.ie domains now account for 50.7% of all hosted domains in Ireland, up 1.5 points year-on-year, followed by 32.6% for .com, the main competitor. Business owners and people in Ireland have clearly indicated that their online identity of choice is a .ie website address and a .ie email extension.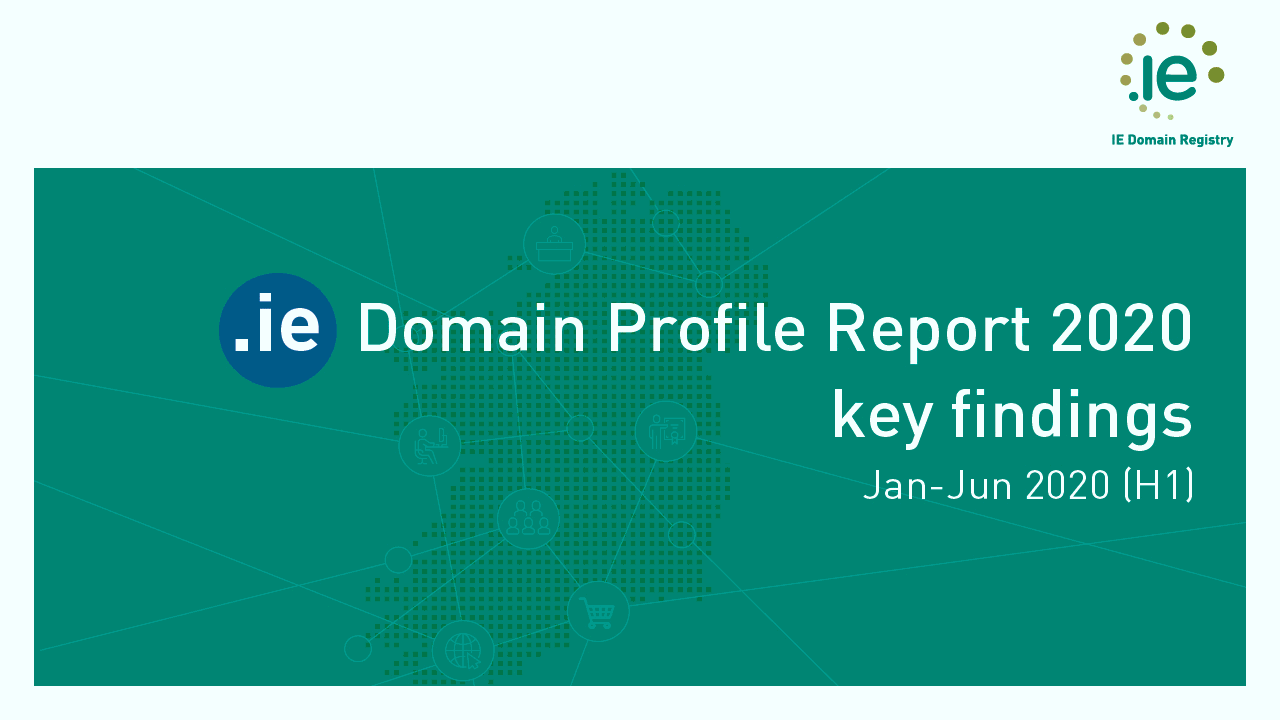 The new Government
With the Government newly elected, we investigated the .ie domain ecosystem to record how many Oireachtas members (TDs and Senators) have a uniquely Irish .ie website. Just over half (51%) of Oireachtas members have a .ie website.

The green movement
With increased public awareness of and demand for climate action, we analysed the .ie database for changes in green-related keywords in .ie web addresses, such as "clean" and "sustainable".
There was an overall increase of 33% for all green-related keywords in new .ie web addresses in H1 2020 versus the same period last year. Use of specific green keywords also increased, including "clean" (up 65%), "solar" (up 45.5%), and "wind" (up 3%).
Other findings
59% of all new .ie registrations in H1 2020 were by companies or the self-employed.
County Tyrone recorded the largest increase in new .ie domains (105%) in H1 2020 (albeit from a low base), followed by Monaghan (83%) and Carlow (75%).
Dublin and Cork recorded the highest (12,504) and second highest (2,734) numbers of new .ie domain registrations in H1 2020.
Great Britain accounts for the majority of internationally registered .ie domains. New registrations in H1 2020 increased by 13% year-on-year (from 635 to 718).
41% of .ie websites now have a security certificate.
Comment
Speaking about the .ie Domain Profile Report, our Chief Executive, David Curtin, said:
"The significant digital expansion suggests that all business owners and entrepreneurs, in cities and in regional parts of the country, understand that having a trusted, uniquely Irish online presence is absolutely crucial in a time of lockdown, when nearly all physical premises are shut and footfall is extremely low or non-existent.
"Having an online presence means that these businesses can stay in contact with their customers, build on their relationships, and, most important of all, continue to sell to them through an online store, click-and-collect service, or voucher booking system.
"Irish SMEs' ability to cater to consumer choice and comfort, by providing both an online experience and an in-store shopping experience, will be key to the country's economic recovery in 2020 and beyond."
For further information, visit our .ie Domain Profile Report page where you can download the full report and factsheet.
Naomi Temple is our Marketing Specialist working within our corporate communications team.