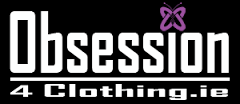 Author: DON
Title: Obsession4Clothing.ie
Company Pitch
Description:
Obsession4Clothing is one of Irelands most exciting ladies fashion websites. Based in Co. Carlow, we are 100% Irish owned and operated. We offer unique dresses and evening wear online to ladies of all shapes or sizes. We are inspired by the latest fashion trends of the rich and famous.
We produce similar styles and designs at a fraction of the cost, allowing you to look and feel like a celebrity without breaking the bank. To keep our prices low, we don't have a physical shop, passing all the savings on to you our customers.
That's why I have entered IEDR Optimise Fund 2016, I feel because we don't have a physical shop I really need help with optimising my website to enable as many people as possible to find us at the touch of a button. My aim is to expand my online sales throughout Ireland and the UK. By winning this I feel it will really help grow my business and make my website more user friendly. My goal for the next year is to be able to create jobs and I feel if I win this fantastic prize, it will be a great step forward towards that goal.
URL: