The value of user persona for your online business
What's a persona?
You've built your website and now you want to attract the right customers. A tactic being used by many companies is to use personas which is effectively a character or identity that sums up the customer in a snapshot view. Let's take a closer look at what this involves and how creating personas can help improve your website experience. Personas are semi-fictional representations of your ideal customer but they are based on market research and real data about your existing customers. They are sometimes referred to as buyer personas, particularly in relation to retail marketing.  They help improve your understanding of your customers and allow you to tailor promotional and marketing campaigns to target the most relevant people for your business.
Getting an accurate persona of your customer.
It all starts with painting a picture of your unique personas. In order to be effective, personas need to be based on data-driven research. Yes, you know your customers best but personas need to be based on more than just opinions, assumptions and instinct. Google analytics can tell you a lot about who is on your website, how they are accessing your site; how they are navigating through the site; what devices they are using; and what areas they are spending the most time on. See our post on how to 
harness the power of google analytics for your business
for in-depth insight. Customer surveys or post-purchase questionnaires can also give you great insights into your customer base. There can sometimes be a mismatch between who you are targeting, and who you actually want to target. If this is the case then go back to the drawing board and rethink your overall business objectives. Re-evaluate the target consumers you want to attract with your products or services. Draw up your desired persona and align your activity to reach them. Once you've gathered the data, it's time to consider their lifestyle, demographics, digital behaviour, likes and dislikes, attitudes and beliefs. Pull together a rounded view of each user persona. Now look at how this person would use your website. What content will they need, what device will they use to access your website, what sort of language appeals to them.
Stay focused – you can't be all things to all people
You will need to be selective and focused to create a manageable number of target personas for your business. Typically, this is about 2-3. For example, for a city centre yoga club there might be 3 personas:
Students  (for mid-week off-peak or discounted classes)
Mothers  (for mother and baby, prenatal and postnatal classes) and
The 'Healthy Active'  (male/female participants looking to improve fitness, posture and well being)
Each of these groups will be using different social media and different digital devices. They will have varying discretionary income levels and availability, depending on their employment status. As a result, the content that attracts them and entices them from the homepage to the booking form will need to be very targeted. There is little merit to creating 10 very niche persona types. As a small business, you simply cannot diversify your approach in a multitude of ways without diluting your core offering and confusing customers.
Putting a picture to the face
A great idea is to source an image that best fits with your persona – it doesn't have to be a real customer. It's for internal use only but it will really focus your efforts when designing your website or developing new online strategies. Pin it up in the office for everyone to see - this will focus your efforts even more. Give each of your personas a name, for example, Fit Frank or New Mum Margaret. Here's a nice example of a photo-based user persona.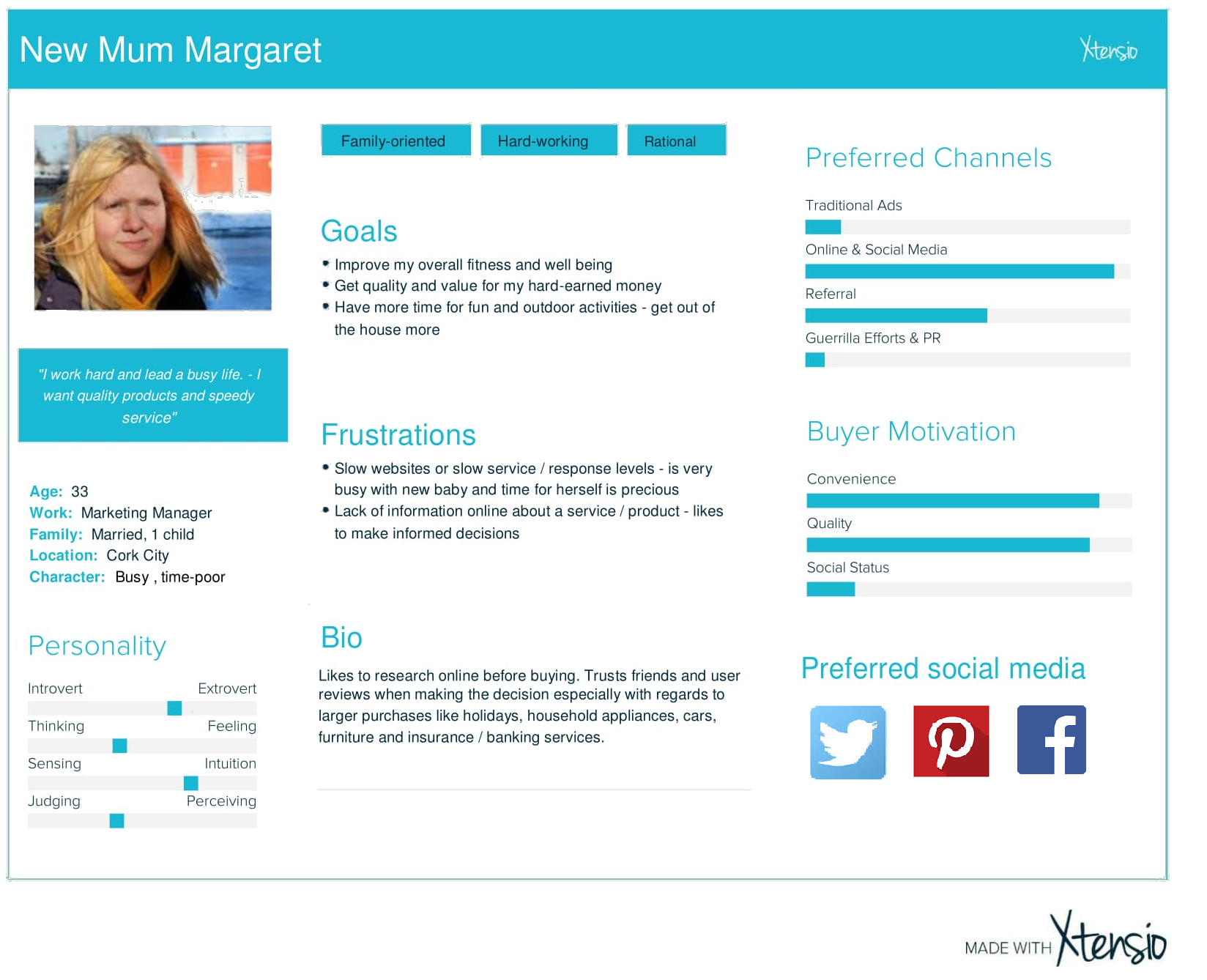 It's a really useful exercise to challenge any new marketing or design ideas against key questions: Would Fit Frank respond to this? Where is the best place to reach New Mum Margaret? This sense check keeps you focused and ensures that any content creation or web design changes are carried out with the consumer in mind. By giving them names, the target customer becomes more real. User personas can provide huge value and insight to your business. In summary, they help you to:
Develop a deeper understanding of customer needs and how to meet these
Create a universal, aligned view of the customer across the business
Allocate resources effectively to the projects, campaigns, and initiatives most likely to reach your target personas
As a result, you are in a better position to meet customer needs and deliver a best-in-class UX experience.
More information, free tools and guides
There are many online tools available to kick-start the process of user persona creation.
Here's a useful worksheet
to start developing personas from 
Hubspot.
Easy-to-use template
 for creating personas with 
Xtensio
 (same as persona found above).
A handy guide
 from 
Buffer
.