Record breaking quarter for new .ie registrations
At the end of Q2 2020, we are delighted to report record breaking domain registration figures – a 51% increase on Q2 2019.
April had over 5,500 new registrations, a 31% increase on April 2019.  The trend continued in May, with over 7,000 new domains registered, the highest number in a single month since the company was founded 20 years ago.  This represents a 60% increase on May 2019.  June figure held up very well, with over 6,500 new registrations, a 62% increase on June 2019.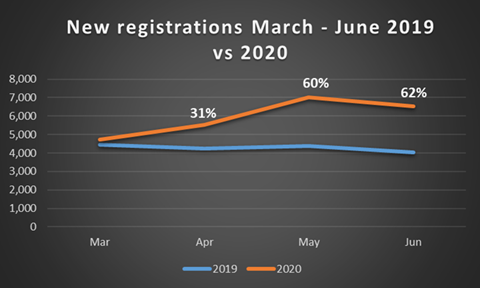 SMEs embrace digital
The impact of Covid-19 meant that many businesses had to close their physical stores temporarily, and many of them have made the move online and embraced e-commerce in order to survive. As the economy gradually re-opens, online will continue to be an important channel for businesses.
Consumers now have an expectation of increased online service including click and collect, curbside pickups and the ability to purchase products online for direct-to-door delivery.
We are delighted to play our part in facilitating and enabling businesses get online quickly with their .ie domain.
Useful resources for SMEs: